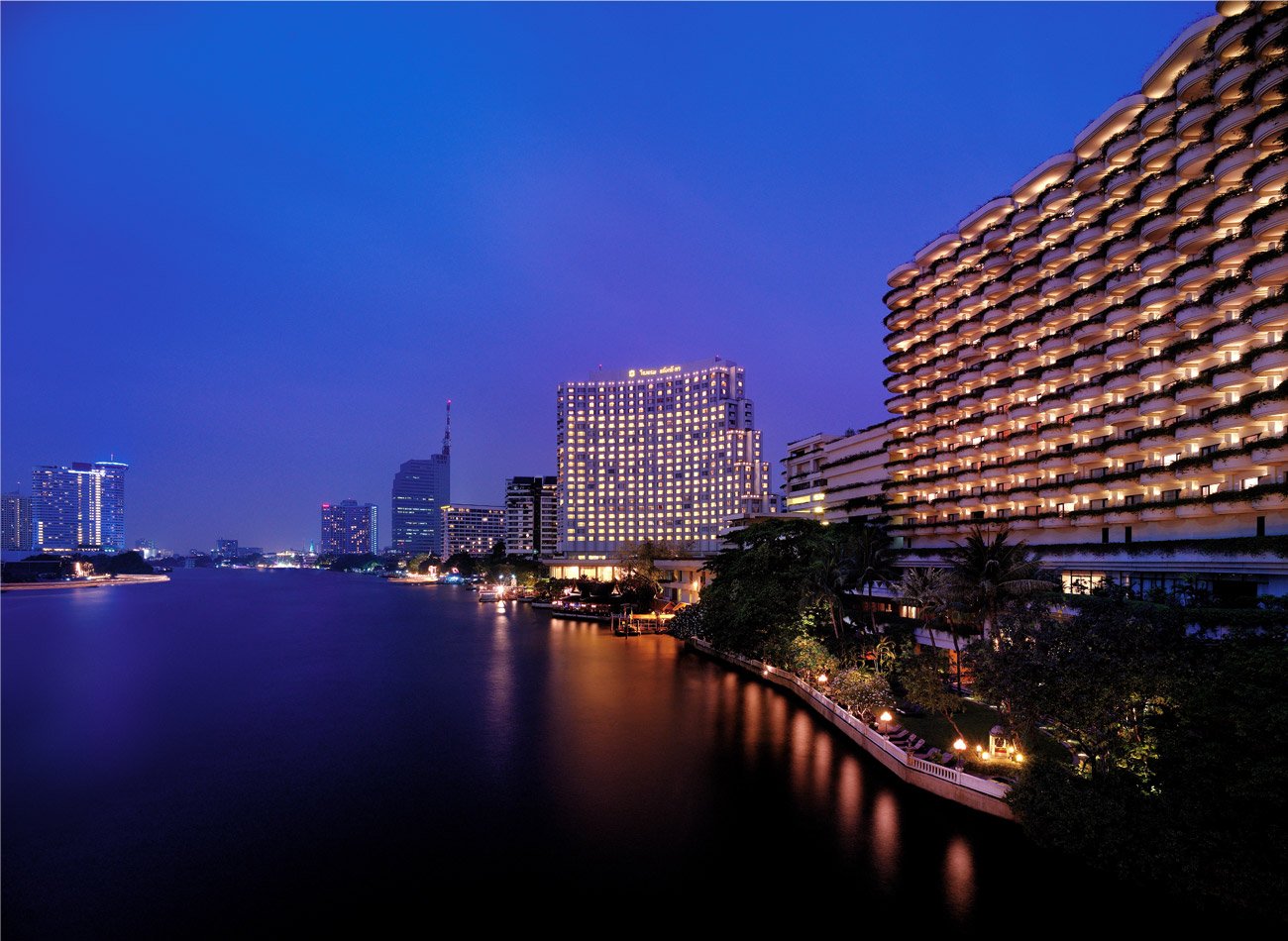 LOCATION: Hugging a half mile stretch of the famous Chao Phraya River, Shangri-La Bangkok, is set in the heart of the marvellous mayhem that is the Thai capital.
With hoots of tuks tuks and the calls of market traders touting their handcrafted wares heard just around the corner, this resort offers a tranquil retreat for those wanting to explore Bangkok.
Just a 30-minute drive from the airport, the hotel is in the Silom district on the doorstep of the squeaky clean skytrain, one of the easiest ways to explore the city at pace.

FIRST IMPRESSIONS: As a first time visitor to Bangkok, Shangri-La is the ideal tropical retreat for anyone who might feel a little overwhelmed by all that's on offer.
While Bangkok can seem like a heady clash of tradition meets 21st century; with gleaming golden temples and cobbled streets set against a backdrop of skyscrapers and megamalls, there's nothing about Shangri-la which jars.
Entering the expansive marble lobby, any stresses and strains of travel were immediately soothed by the graceful and gentle Thai hospitality as we were handed fragrant cool compresses and gratefully sipped a lemongrass infused drink.
The decor is opulent but not overstated: Western perfectly fused with traditional rich Asian fabrics, carved teak panelling, and handcrafted artwork – all set against a knock-out floor to ceiling view of the twinkling 'River of Kings'.

THE FACTS: Like the fictional paradise after which it is named (the place in James Hilton's Lost Horizon where people barely age and enjoy perpetual peace), Shangri-La, Bangkok continues to defy the years.
It's just celebrated its 25thanniversary and thanks to a US$60million makeover there's not a single blemish or wrinkle to be found. What's new? Well just about everything – there's the lobby, Grand Ballroom, refurbished guest rooms and the immaculate re-landscaped pool terrace with its palm trees, flowering bougainvillea, orchids and bird of paradise flowers making for a truly exotic ambience.
Favourite additions have to be the Long Bar, that's down to its 14-metre counter, which offers the perfect spot for early evening cocktails (the signature Green Day is recommended), and The Chocolate Boutique. With the most exquisite pralines displayed in glass cases, there's no way these will make it into the suitcase home. It takes every ounce of willpower to suppress the urge for a smash and grab.
The hotel has 802 rooms, including 72 suites divided into two wings; Shangri-La and the more exclusive Krungthep wing, with its own lobby, lounge and lush tropical setting.
Guests booking a Horizon Club room will find themselves expressly checked in to one of the rooms on the top four floors of the Shangri-La wing. Club membership also allows you to relax in the Horizon Club Lounge on the 24th floor, where you can enjoy complimentary breakfast, cocktails and canapés plus panoramic river views.
My room had decor inspired by traditional performances in Thai theatres brought to life through a giant painting above the bed. My favourite early evening ritual was to swipe a slice of mango from the fruit bowl and stake out my pew in the expansive window seat. It's the perfect place to watch the traditional teak boats trailing the river and an amber sun, sink and set.
It's hard not to feel like you've landed in the lap of celebrity luxury with every whim catered for, but then this is a hotel which routinely hosts royalty and heads of state. Need a helicopter to take you from the rooftop to the airport? Just ask ….

WHO'S IT FOR: Foodies who love Asian cuisine and want to hone their skills in the real art of Thai cooking. Chef de Cuisine Tussanne Putkaew will escort you to the Sam Yan market, before showing you how to perfect a Thai green curry or classic pomelo salad.
Alternatively let all the hard work be done for you and dine in the striking teak pavilions of the new chic Salathip, one of three restaurants clustered around the new riverside pool. Or take to the river and set sail on the hotel's private Horizon Cruise, which casts off nightly with an international buffet.
If you ever tire of Thai, Angelini has been voted the best Italian restaurant in Bangkok for the past 11 years and chef Marco's paccheri mama is to die for.

WOW: It would be a crime against the senses not to surrender your body and mind to the skilled therapist in the Chi Spa. An all over body jasmine rice scrub left my skin feeling silky, while the five oils CHI balance massage left me chilled, sleepy and content.

A GOOD BASE FOR: Sight-seeing the must-dos such as the Grand Palace, the Temple of Dawn and Reclining Budda which are just 15 minutes away by skytrain or tuk tuk.
Shopping is a given. The Siam Paragon is one of the largest shopping malls in Asia selling luxury brands such as Gucci and Valentino next to a range of decorative silk, ivory and antiques items.
Hanging out in one of Bangkok's trendy bars – for true vertigo-inducing views check out Sirocco's sky bar, with its outdoor staircase (made famous in Hangover II) from which you can enjoy an 800ft high bird's eye view of this sprawling metropolis while sipping your mojito.

PRICE: Shangri-La Hotel, Bangkok, 89 Soi Wat Suan Plu, New Road, Bangrak, Bangkok 10500, Thailand. A double room at Shangri-La Hotel Bangkok starts from 7,880 THB (approx. £160) per night. Price includes breakfast, tax and service.